The Wags & Wiggles Online Classroom
makes puppy training simple!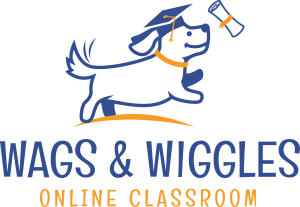 Owning a loving and well-socialized puppy is one of life's greatest joys!
Playful biting, pulling on the leash, potty mistakes, and taking you for a walk are almost cute at this age. However, these behaviors won't be so cute a year from now!
The Wags & Wiggles Onlnie Puppy Training membership is specially designed for puppies 8 weeks to 5 months of age. Teaching your puppy good habits from the beginning will give you an obedient and friendly dog as an adult.
Raise your puppy into the adult dog of your dreams with the help of our online classroom!
Benefits of Online Training
Our puppy training philosophy is easy to follow and very effective, even if positive reinforcement training and clicker training are new to you. We'll guide you every step of the way!
Learn at Your Own Pace
Our online puppy training courses are self-study, so you can start training immediately, whether that's during the day, in the middle of the night, or in your pajamas! Instructor feedback is included.
Courses for Every Need
Our puppy training membership includes 8 different courses. We cover everything from potty training to socialization! We'll even help you stop unwanted behaviors like chewing and leash pulling.
Focused Attention
Online training allows for distraction-free learning, so dogs with reactivity issues can learn in the comfort of their own homes. Puppies will have an easier time learning in an environment with less distractions.
Comprehensive Training
Every course features multiple exercises with step-by-step instructions that progress in difficulty. Develop every behavior from the fundamentals all the way to real-life training!
Our Puppy Training Membership includes the following courses:
8 Courses | 6 Months of Access | $59